Inspirations for a Midcentury Landscape Design
Inspirations for a Midcentury Landscape Design

In the modern garden and landscape, there is definitely still some room for midcentury designs. Which ones should you incorporate into your own backyard?
We are going to be discussing some of our favorite inspirations from midcentury landscaping, and how you can add them to your property easily.

1. Elaborate Patios
One really fantastic takeaway from midcentury designs in landscaping is having a fully functional patio that serves as an extension of your home. The mid 1900s brought along trends of grilling outside, having extensive patio furniture, and creating a place to gather outdoors.
Whether you go with a full-blown outdoor room or something a little simpler, having a patio with an area to sit, cook, eat, etc. is a great addition to any landscape.

Here are some tips from our blog on what to consider before designing a backyard patio.
2. Natural Stone
Adding natural elements to your landscaping gives it more of an organic, low-maintenance look. Midcentury modern designers for gardens would place a premium on using local materials, especially natural stone.
Stone is fairly affordable, and makes a high-quality, beautiful material for hardscaping a patio, retaining wall, or other hardscaping project in your landscaping.
3. Low Maintenance Plants/Shrubs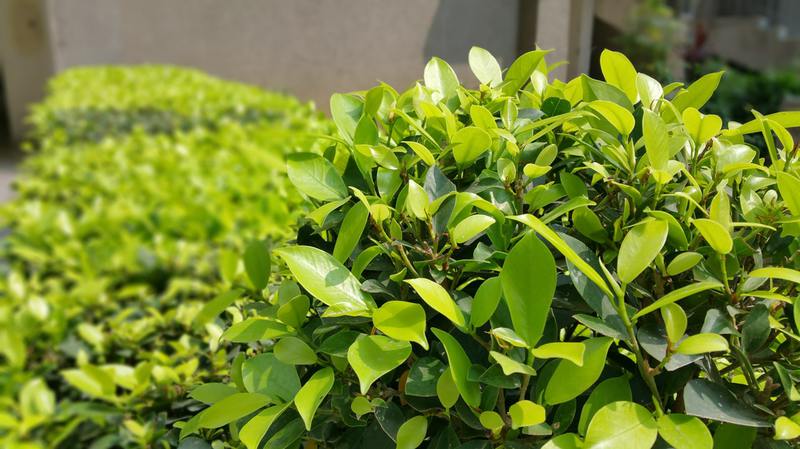 Low maintenance shrubs and plants have been used in many different types of landscaping, particularly midcentury designs.
While having a gorgeous garden and landscape is important, you want to incorporate plants that you have the time to care for. Choosing low maintenance options gives you more time to focus on what's important, without compromising on aesthetics.
Here are some excellent choices for easy-to-care-for plants for your yard.

4. Concrete Hardscaping
Whether it's a wall with vintage patterned designs, a concrete patio, or other hardscaping project, using concrete is a fantastic and affordable way to create your ideal backyard.

Hardscaping doesn't have to be extremely expensive or difficult to build, it should just be practical for your needs and look good.
5. Primary Colors
One of the most prominent trends in midcentury modern homes and landscaping was geometric patterns and shapes in primary colors. This can be easily done in your current landscaping as well!
Whether you choose plants in red, yellow, and blue, or incorporate those colors into your hardscaping and furniture, it's a great way to make your landscaping pop.
Our Final Thoughts on Incorporating Midcentury Landscape Designs
No matter which tips and tricks you take from our list above, we know it will look great with your personal taste and landscaping.
Which aspects of midcentury modern design are you the most excited to incorporate into your yard?
If you are in the San Mateo or San Francisco Bay Area, contact us today for assistance in implementing these ideas!
---