The Top Vegetables For Your Fall Garden
The Top Vegetables For Your Fall Garden

Late summer and early fall is a great time of year to have a garden, but what veggies thrive in the cooler weather?
We are going to be giving you some tips and tricks for having a fall garden, as well as our favorite options for fall vegetables to grow.

Lettuce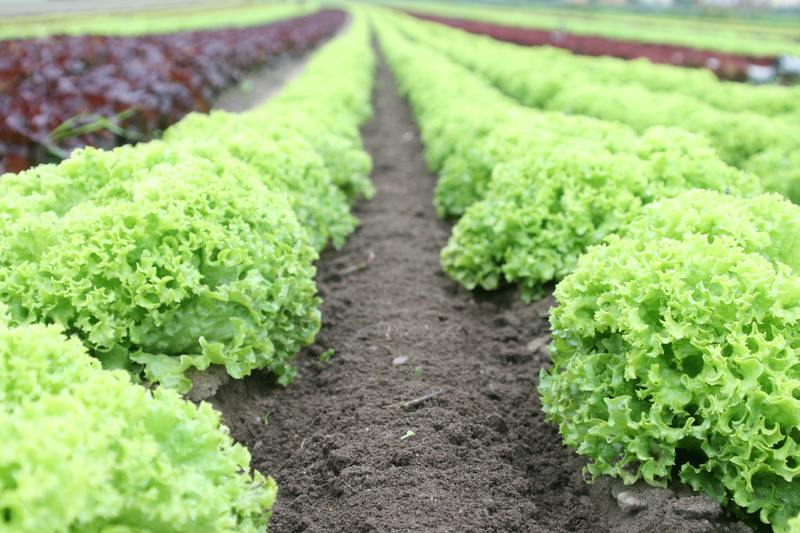 Whether it is early spring or fall, lettuce is a fantastic, easy, and healthy vegetable to grow in your garden. The space you have doesn't really matter for lettuce either – they do well in both smaller and larger spaces.
Lettuce requires partial sun to grow well, the plants are between 6 to 12 inches tall, and 2 to 12 inches wide.
There are many delicious varieties as well. 'Buttercrunch' butterhead lettuce, 'Royal Oak' leaf lettuce, 'Tango' oakleaf lettuce, and 'Summertime' head lettuce are some delicious and different types that you can grow in your own backyard.
This vegetable can also survive a frost as well. So if you have a garden through the fall season, you won't have to worry about the plants dying.
Beets
Beets are an incredibly versatile and tasty vegetable that are ideal for growing in your vegetable garden in the autumn season. Whether you are steaming or roasting the beetroot, or eating the leaves in a salad, they are delicious and perfect for many, many dishes.
Beetroots are typically red, but they may also be pink, yellow, or even striped.
These vegetables need partial sun, and they are around 6 inches to 3 feet tall and between 2 to 8 inches wide. Beets can be collected when they are about 4 to 6 inches tall, and the roots can be harvested at any time – it's better, however, if they are collected before they grow larger than 2 inches in diameter.
Spinach
Spinach is a delicious option for both your fall and spring gardens. It is very easy to grow and filled with vitamins and minerals in its leaves.
This vegetable is in the cabbage family, and will give you the best possible flavor if it is harvested when the leaves are fairly young and the temperatures outside are cool. If you harvest it in warmer weather, the leaves tend to become bitter and less desirable for food.
You can eat these leaves fresh in salads – either mixed with other greens or on its own. Spinach is also great for steaming or sauteing too.
Spinach requires partial sun, and grows anywhere from 6 inches to 3 feet tall. It is also perfect for growing in containers as well, so if you don't have the space for a garden in your yard, you can still grow spinach.
Radish
If you live in a climate with cold winters, radishes can be grown throughout the whole fall season and harvested in the winter. These vegetables are perfect for both spring and fall gardens, so you have a few options.
These delicious vegetables are fantastic in salads or even with dips as an appetizer.
Radishes do best in full sun, and grow to be about 1 to 3 feet tall. They are only 1 to 2 feet wide, and their foliage is blue/green. They thrive the most in zones 2-11.
Carrots
Carrots are an ideal vegetable for so many different dishes, and even taste amazing raw – why not grow them in your garden?

They are very easy to grow, as long as you give them a spot with full sun and well-drained, loose soil. You will also want to make sure they get at least one inch of water/rain a week too.
You can grow carrots in your backyard garden, however it is recommended that you put them in raised garden beds or large containers. If you do put them in containers, they will need regular watering, as these will dry out faster than a regular garden bed.
Cauliflower
Cauliflower is the perfect fall vegetable, as it grows best in weather that is below 70 degrees. It is recommended that you plant it about 90 days before the first frost of the season hits, that way the heads will mature during the chilly fall weather.
The most common white-headed cauliflowers do require you to tie leaves over their developing heads to ensure their flavor and that they will develop properly. Some of the newer varieties of this veggie also grow outer leaves just for this purpose as well.
Colored heads of cauliflower (chartreuse, orange, purple, etc) do not need any blanching either.
Cabbage
If you have never grown and eaten your own cabbage, you are definitely missing out! This versatile vegetable comes in several different varieties that all taste and look amazing.
They require partial sun, and they grow anywhere from 6 inches to 3 feet tall. Cabbages grow between 10 and 30 inches wide as well.
Once the head is its full size, and it is firm when you squeeze it, simply cut it off near ground level with a sharp knife. If you leave it in your garden too long as it becomes winter, the head of the cabbage may split. After you harvest the main head, you can allow the stub to regrow and have several smaller heads for later in the season too.
Our Final Thoughts on Fall Veggies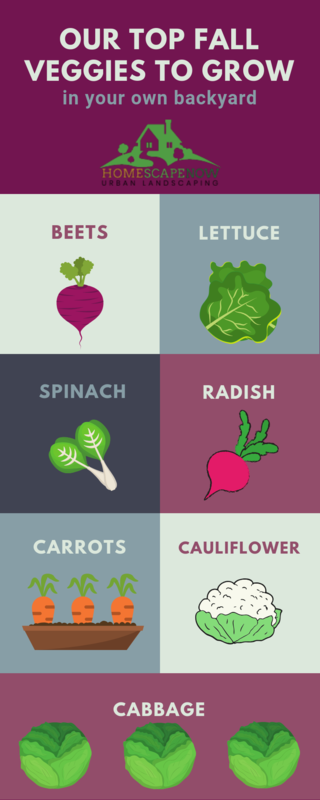 We hope you found our list helpful in planning out your fall gardens. If you do have additional questions about landscaping and planning your gardens, you can always contact us! What is your favorite fall vegetable to grow?
---